Friends of The Freddies
Some of our best friends are Honorary Freddies, and of course have their own homes and loved ones to consider. Here is one of our best friends that we met while we and Dafoy were vacationing in Italy during the fall of 1995. His name is Valentino. We are each wearing our new watches and hats. For more pictures of Freddy and Valentino, click here, here, and here. We maintain a close pen-pal relationship with Valentino, trading holiday letters and pictures several times a year.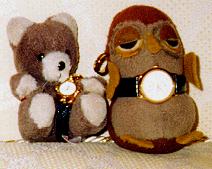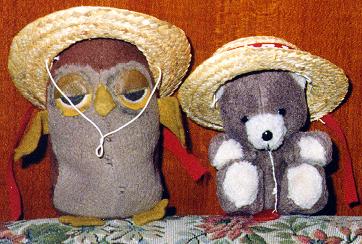 We have a lot of friends who love us just the way we are. William and Charlie, below, are two of the most special people in our lives (besides Dafoy). We just wish that Charlie would stop pulling on our wings... they don't come off but he doesn't understand that yet. But they were gracious enough to be our only friends who sent us a personal Christmas card.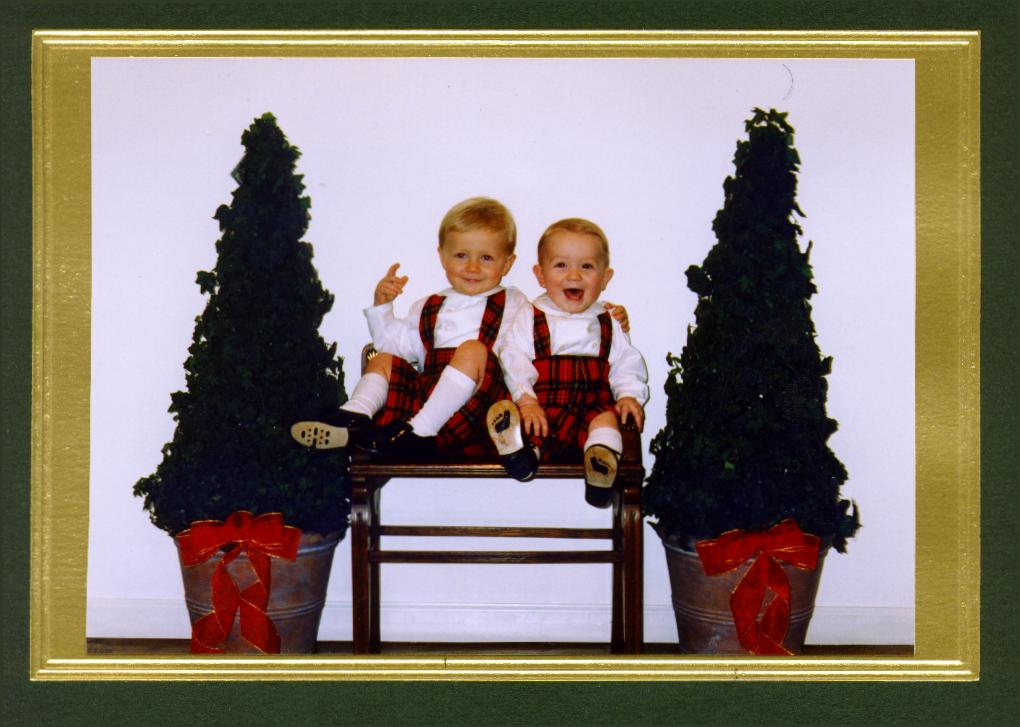 Widdle Doggie, below, is our newest friend. We share a lot in common, including a web site. You can click on his picture to get to his site. Someday we hope that our friend Widdle Doggie and us meet in person, er in owl-dog.
Spencer was only a couple of days old when Freddy T. Nee graciously agreed to have his picture taken with him. Spencer's mom (Beth) is seen here kneeling over to make sure that we are both okay. Spencer is now old enough to know better than to cry in the presence of a Freddy. Spencer has his own owl named Bob which he got when he was just a couple days old. Click here for a picture of the Freddies and Bob.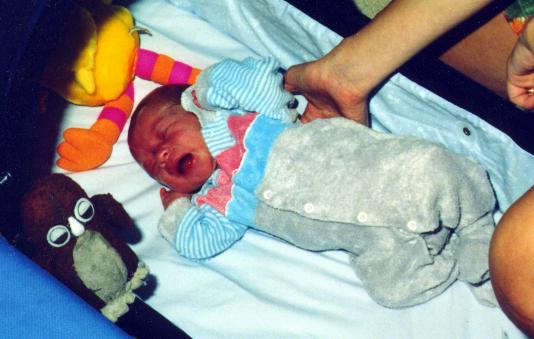 Erin is Freddy's niece. You can see the relationship is a strong one in this picture.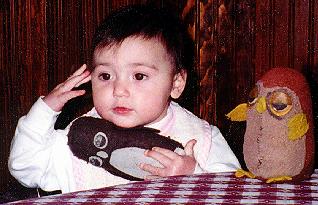 Below is Dafoy's mom (Z Lehdee), who poses with an wanna-bee Freddy. For another picture of Z Lehdee with a Freddy, click here.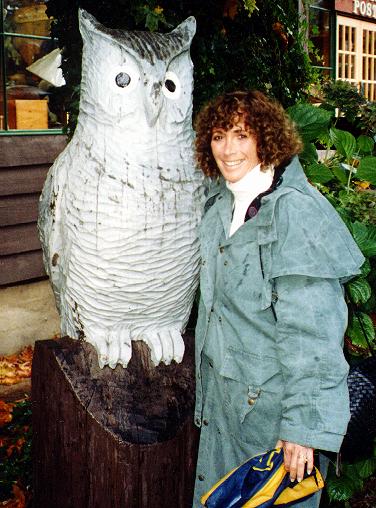 Here is Dafoy and his friend Jim taking a picture of me outside of Jim's home. Dafoy and Jim used to work together. It was a long ride to Jim's house so that's why Dafoy and I look like death warmed over.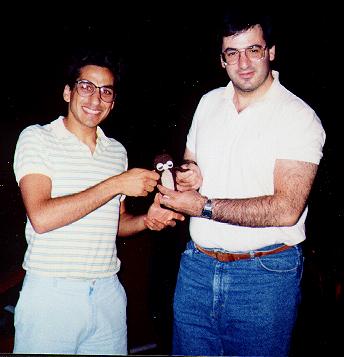 Here is Susan (another friend of Dafoy's) on our recent vacation to Italy. We are pictured here at the ancient colliseum in Rome. I was on my best behavior on this trip, which was a good thing, because had I been a bad owl, Susan told me, "There's going to be chicken for dinner." On the very last night of the tour, Susan let me take a bus tour of Rome all by myself (just me and the bus driver), while Susan and Dafoy had a lavish farewell dinner at a nice restaurant. For another picture of Freddy T. Futbawl at the Coliseum, click here. For another picture of Susan with Freddy T. Futbawl, click here.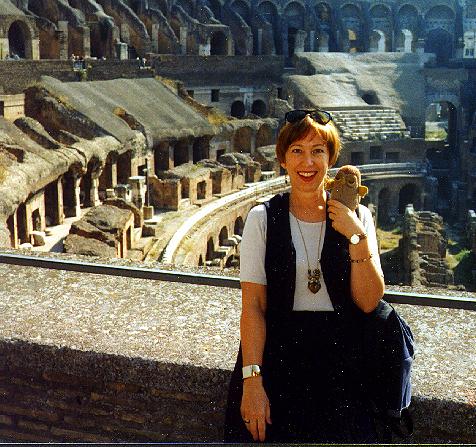 Susan's dog, Sophie, has also taken a liking to Freddy T. Futbawl. Here we see Sophie playing with Freddy after having snarfed him out of Dafoy's briefcase, and Sophie posing with Freddy T. Nee and Futbawl (along with Susan's foot).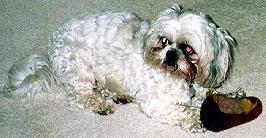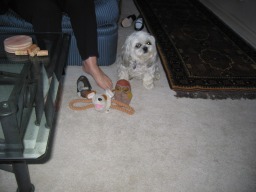 Here is a picture of Freddy T. Nee, Freddy T. Futbawl, and our friend Bruce after having taken a test drive of the 1997 Volvo S70. Bruce likes to drive and fly with us. Bruce is also an Honorary Freddy. For pictures of us flying with Bruce, click here, here, and here. Click here for a picture Bruce and Freddy at Wrigley Field in Chicago. Click here for a picture of Bruce and Freddy on a Louisiana aligator swamp tour. Click here and here for pictures of Bruce with other kinds of owls.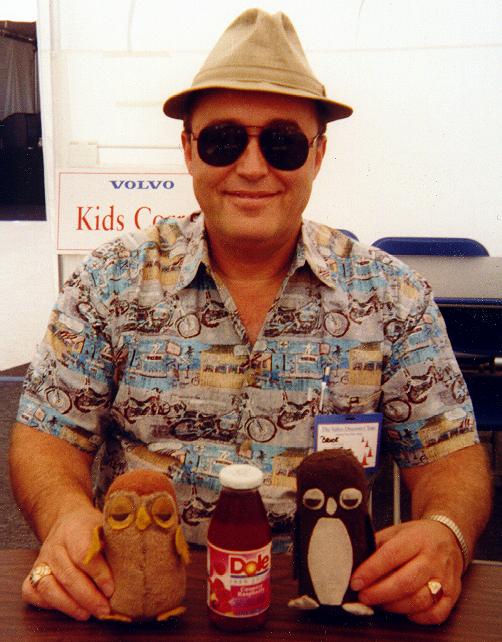 Freddy T. Futbawl has not only flown in a single-engine aircraft with Bruce the pilot, above, but also has commanded a United Airlines Boeing 767 flight from San Francisco to Paris. Here he is with his new United Airlines friend Mary and her friend. For another picture of Freddy with the United Airlines crew, click here. For pictures of Freddy actually commanding the Boeing 767 aircraft while over the Atlantic, click here and here.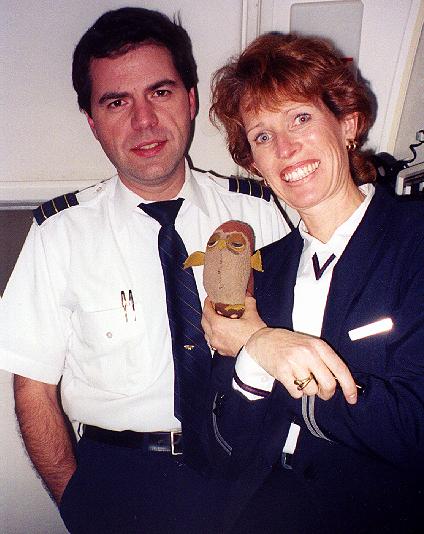 Freddy T. Nee and Sparky were at the same picnic a while ago. Here is a picture of us together on a picnic table with Dafoy in the background. You can see that both Sparky and Nee share an affection for being well loved.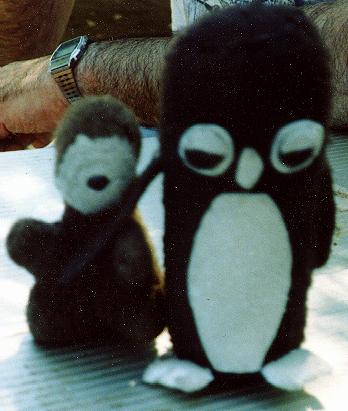 Dafoy and Freddies visited Mesa, Arizona and spent time with his friend Dave. The Freddies took time out from their busy schedule to pose with Dave's Teddy Bear, who like the Freddies, has seen better days.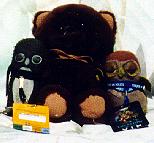 Dafoy and Freddies visited Kiev, Ukraine at the time of the great Revolution. The Freddies made two new friends on the trip, Angelika and Mashutka The Bear Cub.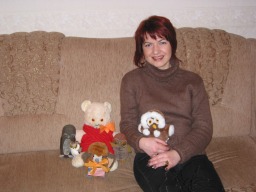 ---
Home

| History | Fan Club | Contact Us | Favorite Things | Favorite Sites | Listen | Album | Cubs Game | Vacations | Jerry Springer